Our Physiotherapists have many years experience treating a wide range of conditions and injuries, from sports injuries to arthritis. If you wish to make an appointment or if you would like to discuss whether physiotherapy would help your condition please feel free to give us a call.
Heather Mariner B.app.Sc. (Phty) APAM
Bachelor applied Science in Physiotherapy from Sydney University (Cumberland College Campus)
Member of the Australian Physiotherapy Association
Practice Principal and Director of Sutherland Shire Physiotherapy Centre

Heather graduated from Sydney University (Cumberland Campus) in 1984 and began work at St George Hospital in Kogarah. She has worked in private practice since 1985. She has extensive experience treating musculo-skeletal injuries. In the 1980's and 1990's she worked with the Australian Soccer Team and several of the NSL soccer teams as well as working with olympic level athletes and their coaches. In 2000 she was chosen as a physiotherapist for the Sydney Olympic Games, working at the Polyclinic in the Olympic Village and at the Gymnastics, Weight Lifting and Tae Kwon Do training venue. During this time she had the opportunity to treat athletes from all over the world.
Heather has more than 20 years experience in the assessment and treatment of conditions of the neck and jaw, including related postural disorders, headaches, shoulder conditions and elbow conditions. Since 1991, she has been treating jaw injuries and has undertaken extensive continuing education to further her knowledge and expertise in this area.

View Heather Mariner's LinkedIn profile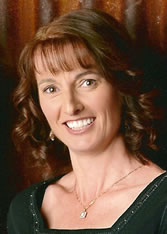 Heather Mariner
TMJ (jaw) and
musculo-skeletal physiotherapy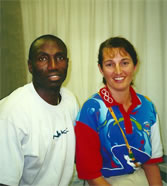 Heather with Atlanta
400m hurdles Silver Medallist, Zambian
Samuel Matete at the Sydney Olympics